MEET HELIOT EMIL, KENDRICK LAMAR'S FAVORITE ALT-STREETWEAR LABEL
THE LATEST INSTALLMENT OF OUR DESIGNER SPOTLIGHT SERIES HONES IN ON COPENHAGEN-BASED STREETWEAR
The latest installment of our Designer Spotlight series hones in on Copenhagen-based streetwear label, HELIOT EMIL. Named after their great-andfather, the brand was founded in 2017 by brothers Julius and Victor Juul, whom split up their company's design and business tasks, respectively.    Marked by an avant-Scandi aesthetic that merges form and function with lush, tech-rward fabrics, what HELIOT EMIL lacks in age it makes up for with a mature design narrative and a slew of celebrity endorsements, including Kendrick Lamar, A$APRocky, Justin Bieber, Yung Thug, 2 Chainz, Future, Playboi Carti and Miguel.
Now in its fourth year, the label, whom we deemed as one of  the top 10 emerging brands of 2017,  is now a highlight at  Copenhagen Fashion Week and has even made its way  stateside with a debut show at New York Fashion Week:  Men's for Spring/Summer 2017. We met up with the  designers at their Brooklyn studio to learn how the brand  came to be and where they plan to take it in forthcoming  years. Read below then peep the editorial we shot featuring  select Fall/Winter 2018 pieces.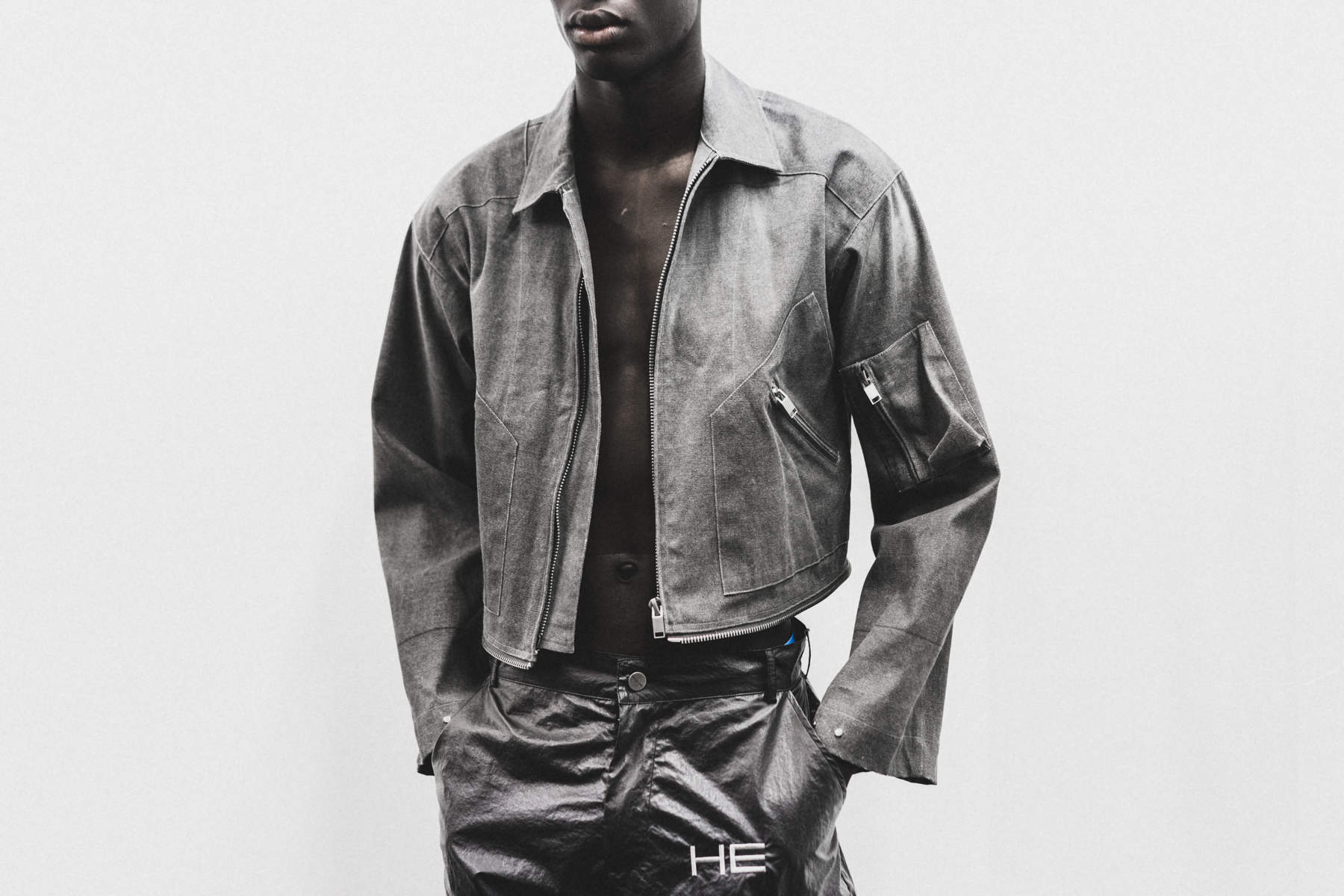 When was the label first launched? 
We showcased our first collection in Spring/Summer 2017, so with Fall/Winter 2018 we are four collections in now. We have slowly been building the brand and try very hard to keep the growth  healthy and sustainable. We feel that it is very important to have a solid backend and release the brand with the right retail partners, more so than maximizing profits and release to hundreds of   stores. 

Did you guys think that you'd be running your own business together someday? 
I mean we didn't plan it from birth, but we've been best friends all our lives and we trust in each other enormously, so I  guess it was a natural progression. We want to impress one another but have fun while doing so. It's been a crazy ride so far and we feel like we've only just begun. We are both really  Happy that we get to share this experience and seeing the  development of our work over the past couple of seasons has  been priceless. 
How do you both split up the responsibilities? Is it  like a Demna/Guram Gvasalia type of relationship  where one of you focuses on the creative side of things, and the   other is more business-minded? 
I [Julius] have a design background and Victor has a business background, so naturally we split the responsibility between  us like that. But being so alike we obviously overlap with  opinions and   fist fights.
How has the brand been received in Denmark? How  does the reception in Europe compare to that of other markets? 
Denmark is very small, so as soon as anything remotely  interesting happens here the Danish media is all over it. We've been featured in a lot of great magazines and have had  amazing support from the Danish fashion fair, Revolver. We  have an upcoming collaboration with Kopenhagen Fur which we are very excited about. 
The reception in Asia has also been great and we are stocked  in some of the best retailers throughout Europe, so we're both very thankful that a lot of these stores believe in us and our  vision for  the brand. 

What's been the most exciting moment for you thus  far? 
Well that's a very tough question – we feel like we have many exciting moments all the time so it's hard to keep up. To be honest, the most exciting thing for  us is to just look back at the ride we have had and see how  much we have developed over time. We catch ourselves saying, "Think about where we were just a year ago today" all of the  time. 
A lot of celebrities have been seen wearing the brand on social media. How do you think they found out  about it? 
We've been fortunate enough that some people believe in the brand and have helped us connect with the 
right people for celebrity styling. Today 
a lot of the requests we get are through Instagram is 
interesting  to 
see the difference in a formal pull request from Condé Nast versus a 
quick comment from a celebrity  stylist asking if we can "drop off a look" 
at a hotel in two hours at 1AM on a Tuesday.
Who is your target audience? 
We try not to dwell on targets because we think most people hate being put into boxes and being told what  to like and why they should like it. 
What goal do you hope to achieve in the next year?  The next five years? 
About a year ago we had just launched the brand and had no idea of what to expect and were kind of naive  with the possibilities.  But seeing the development in the industry – and for us included  – has definitely pushed our thoughts of what can be done. One thing that is slightly a shame is that some of  the brands we have  looked up to have been sold or invested in and it seems that they have compromised or  commercialized their product.