The Tiers of Fashion:
Avant Garde
Mainstream
Streetwear
AVANT-GARDE
Favoring or introducing experimental or unusual ideas.
The avant-garde (from French, "advance guard" or "vanguard", literally "fore-guard") are people or works that are experimental or innovative, particularly with respect to fashion, art, lifestyle or culture.
The avant-garde pushes the boundaries of what is accepted as the norm or the status quo.   Many fashion designers have aligned themselves with the avant-garde movement which creates a buzz around their name, brand, or designs.  When clothing is designed in an unusual manner,  it typically garners more attentions.  The media and bloggers enjoy writing about clothes, shoes, or accessories that don't fit the norm.  Frankly, avant garde fashion provides interesting photographs and news.  Purposely creating unusual pieces which helps develop brand awareness which often trickles down from the media to consumers.
A few fashion designers and brands that can be considered to be avant-guard include  certain designers and lines because of their aesthetics along with their ideologies (Carpe Diem, Julius, Ann D. et al)
Esoteric brands like Carpe/LMaltieri/Linea, Poell, and LUC. Every piece is "precious" and there's a clear art to the execution.
There is a tenuous link between the products produced by clothing labels such as Rick Owens, Boris Bidjan Saberi, The Viridi-Anne and so forth. Nearly all these brands are inevitably lumped together by the greater fashion community solely for adhering to a similarly "gothic" aesthetic. Perhaps this is due to the versatility of these garments—the ability to wear singular pieces from multiple designers while still maintaining a cohesive look. Generally though, this outlook disregards the individual creativity behind the respective labels.
The stark contrast between these designers is obscured due to an overly-simplified aesthetic—itself the culmination of two distinct design approaches. First, there was the growing avant-garde movement in Japan, with designers Rei Kawakubo and Yohji Yamamoto producing unstructured garments and redefining basic wardrobe staples. Meanwhile, in Western Europe, Carol Christian Poell and Paul Harnden began to challenge the predominant idea of avant-garde through unorthodox manufacturing and experimental design techniques. The matrimony of these two separate entities inevitably gave birth to the so-called grandfather of "dark" style—CarpeDiem. Labels set on a path of innovation that grow to form the foundation for a global fashion movement. The mass availability of brands continue popularity in the fashion market,  an oversaturated market, continues to redefine the intersection of avant-garde and artisanal fashion.
CCP/Carpe level of detail and attention to be different than say… Lanvin because Lanvin quality is almost secondary to the design. That is, the company justifies their price tag by using good fabrics and more attention to the sewing. Whereas CCP, Carpe et al. generate ultra high quality products because they create.
Avante-garde is a style defined through strong personality.  The style can be sophisticated, intriguing, and striking.  Fashion designed in this manner can also be considered to be mysterious as well as intimidating for typical consumers.   Avante garde fashion is typically very modern but can take on aspects of vintage as well.  Because this style of clothing is often produced with unusual shapes and sometimes unusual fabrications, it often takes on the appearance of being more of a costume than clothes to be worn on a normal day.
Mainstream: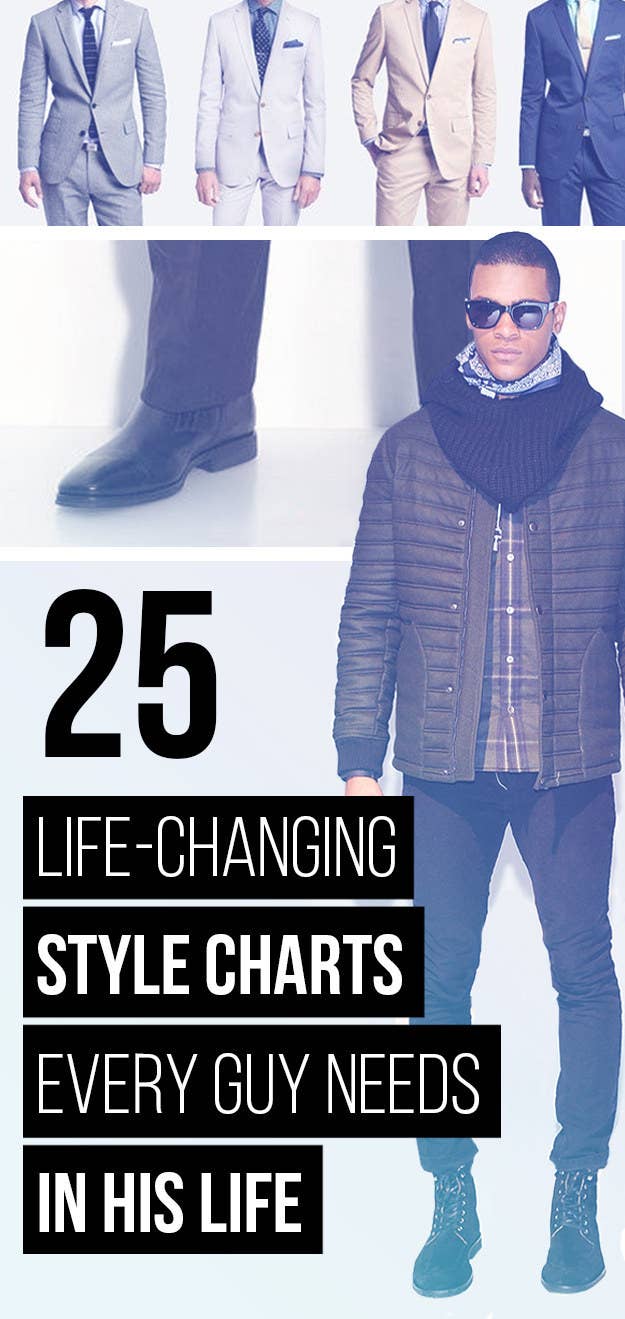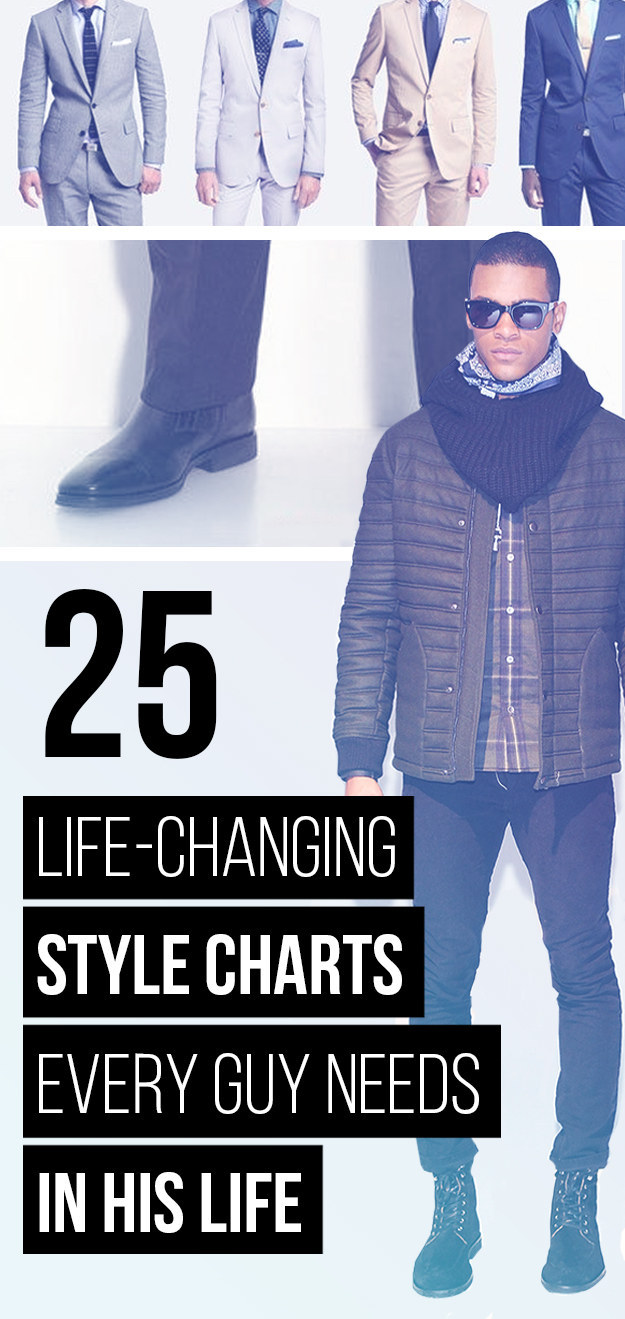 1.
Know the differences between American-, British-, and European-cut suits.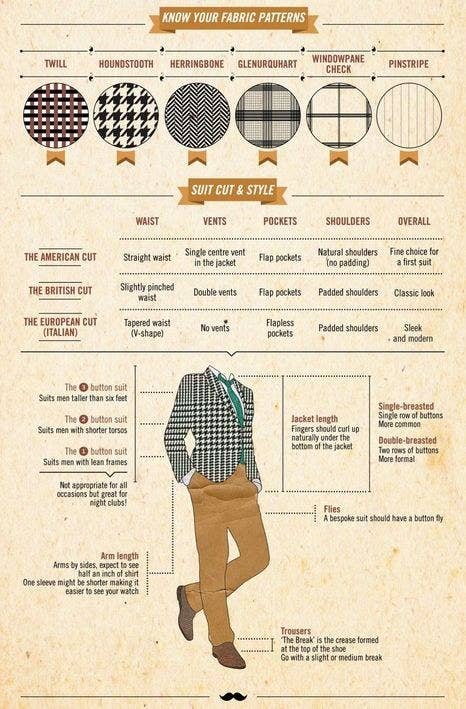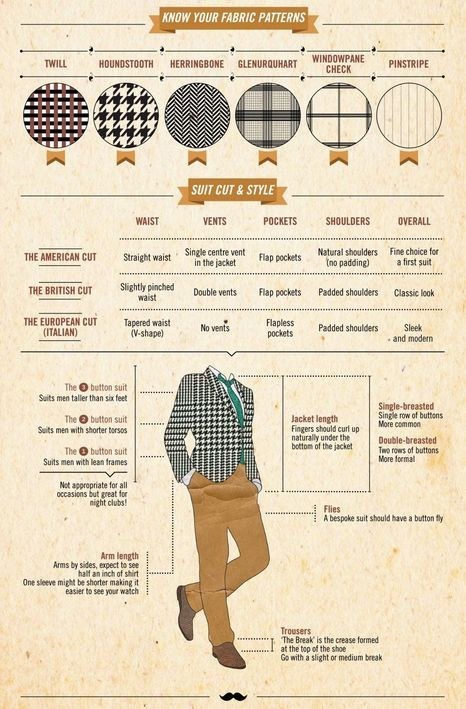 2.
When it comes to buttons, follow these easy rules.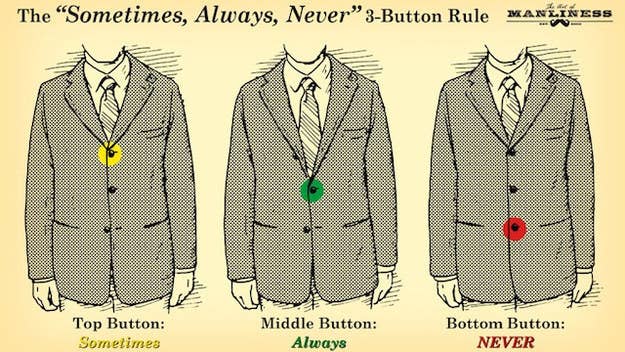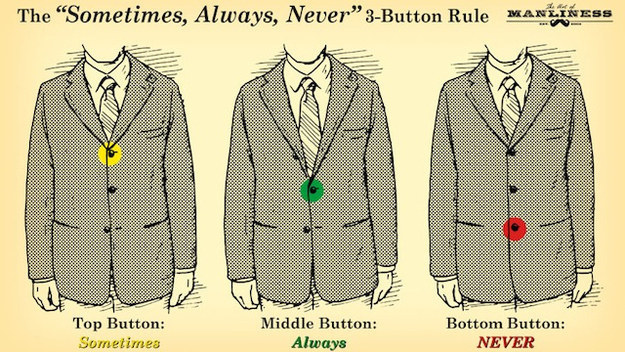 3.
Before you throw on that shirt with that tie, STOP! And take a look at these helpful color and pattern combos.


4.
This helpful guide to patterns can also help. From the center: suit, shirt, and tie combos.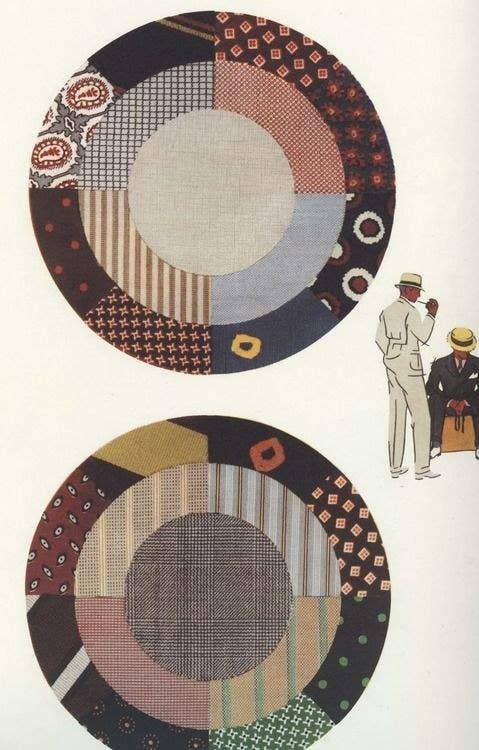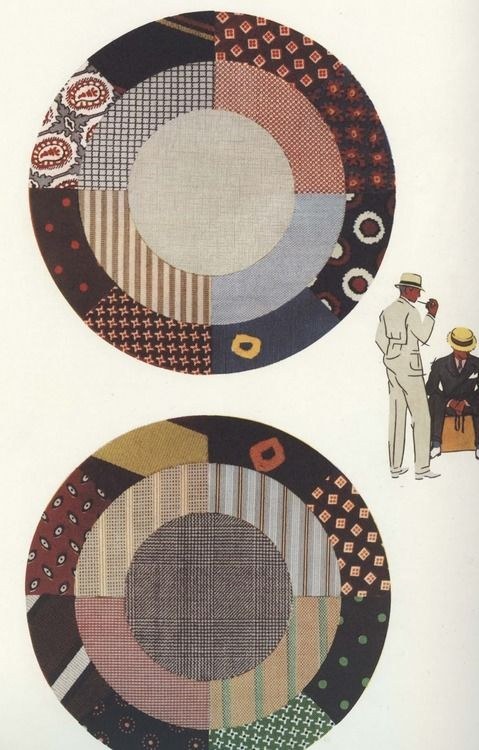 5.
Speaking of patterns, here's a helpful guide to punchy plaids.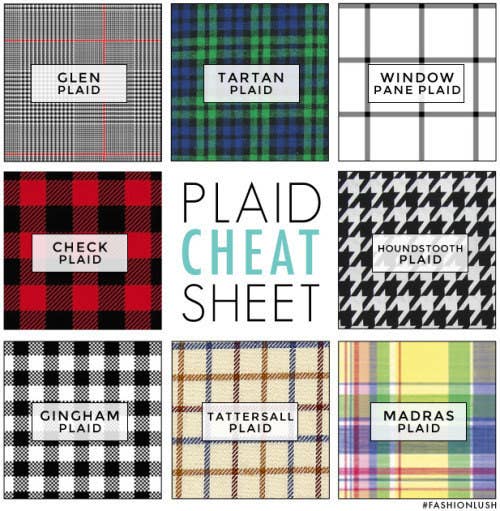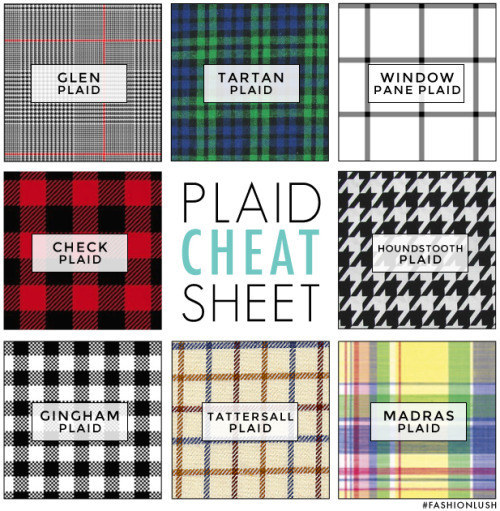 6.
If you're buying a suit, you should definitely try these ~quirky~ tricks.
7.
Once you've got your suit figured out, you can pick the best shoes to go with it.


8.
And about that suit… Here's how it should fit.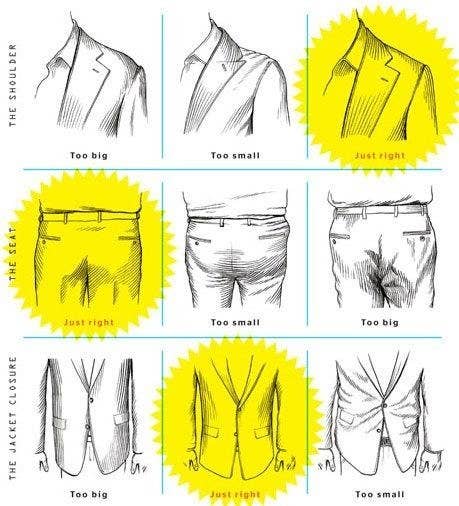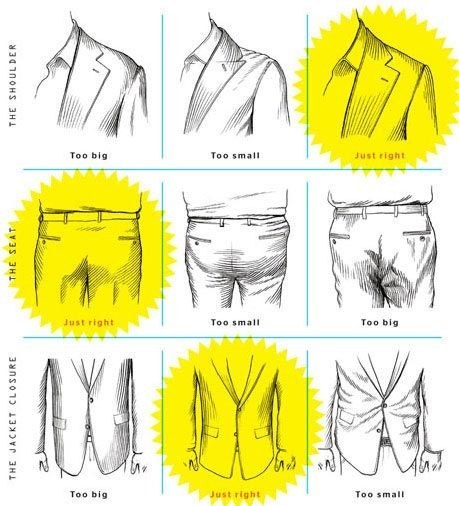 9.
Still confused? Here's a more detailed guide on how pants, shirts, and jackets should fit.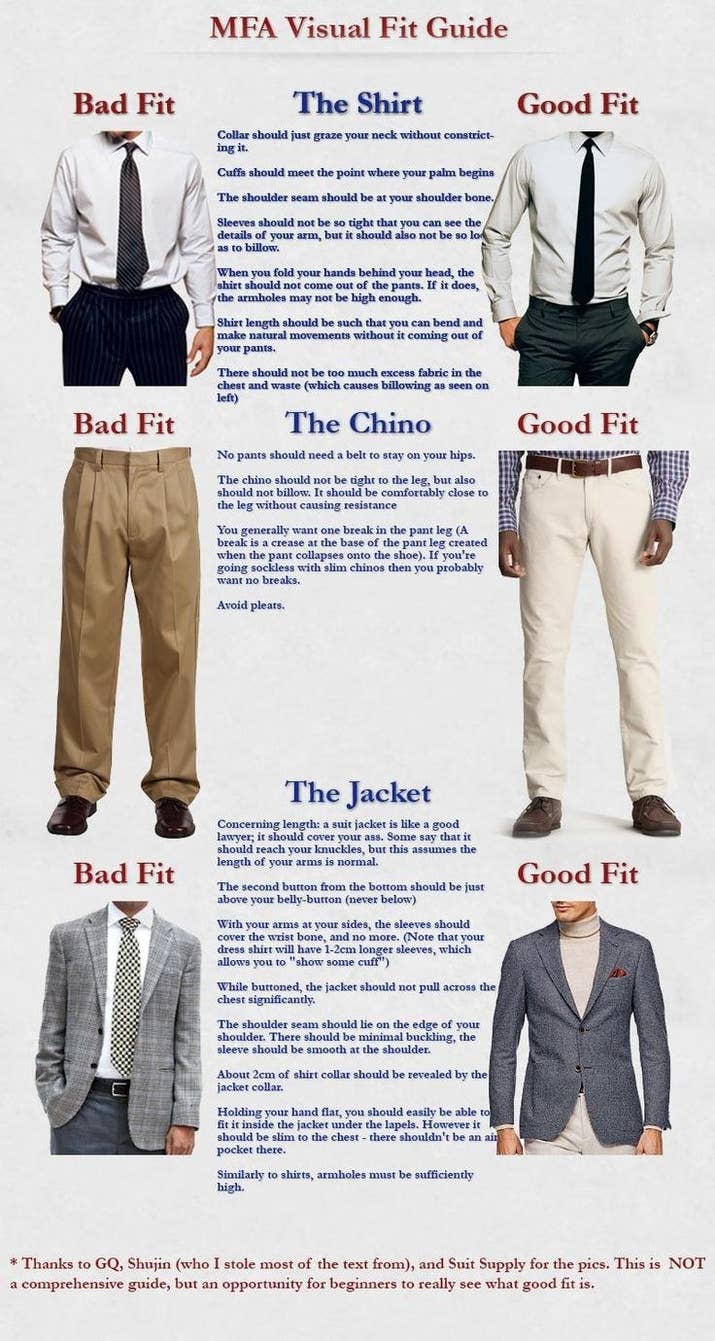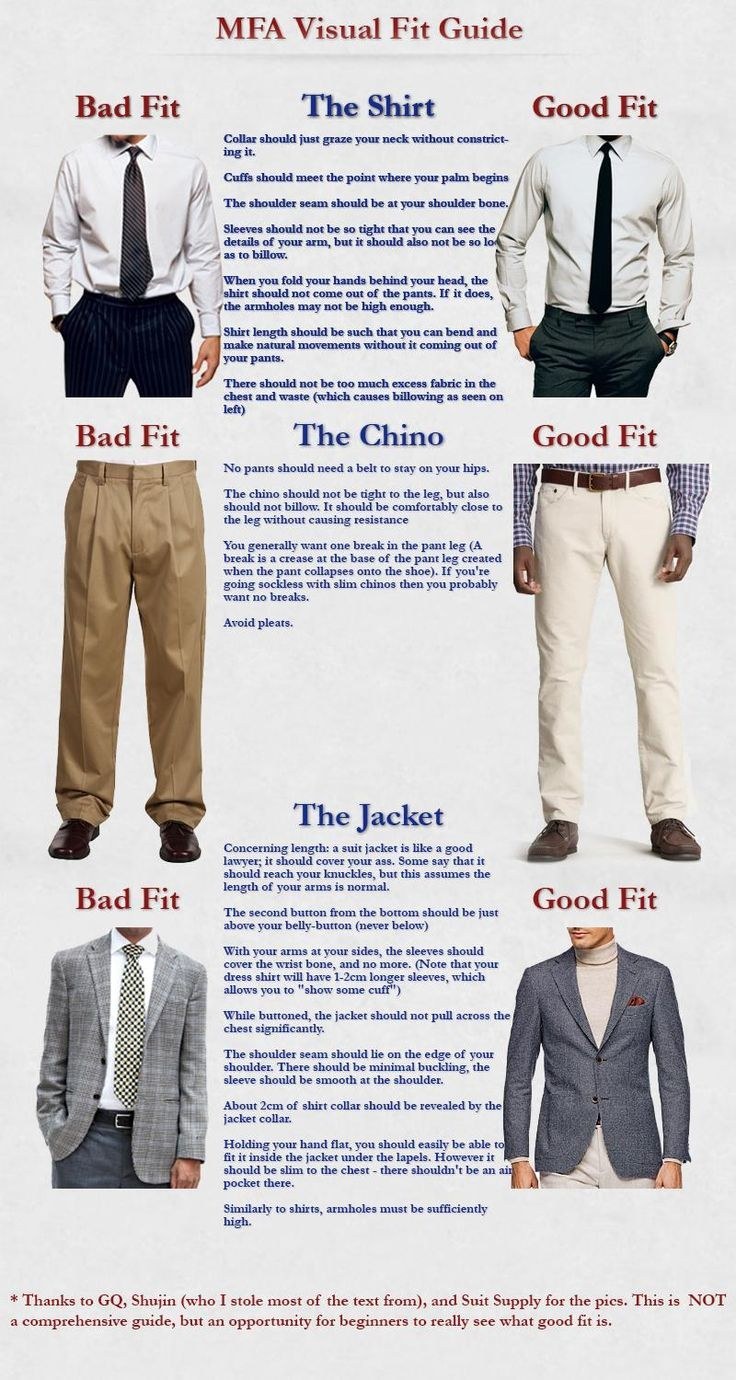 10.
Here's a helpful guide to the difference between different pants lengths. Typically, you'll want something between a half and quarter break.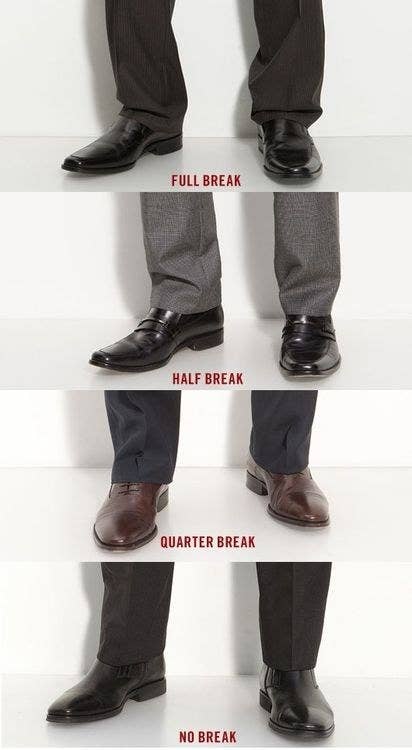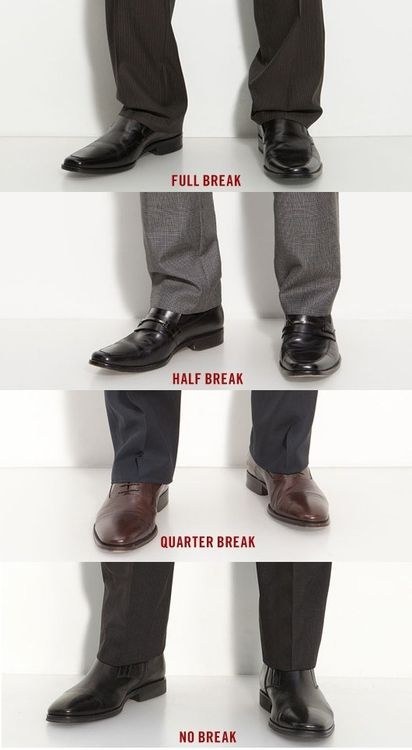 11.
Know your collar.


12.
But wait! Maybe you're in the market for a tux? Consider these rules…that you should break.




13.
First things first: Here are what colors go with other colors.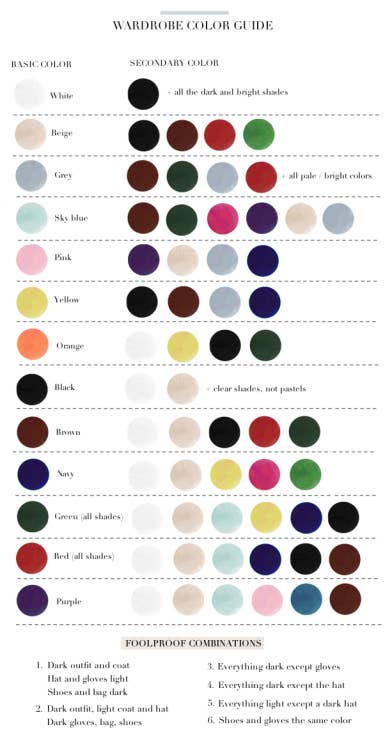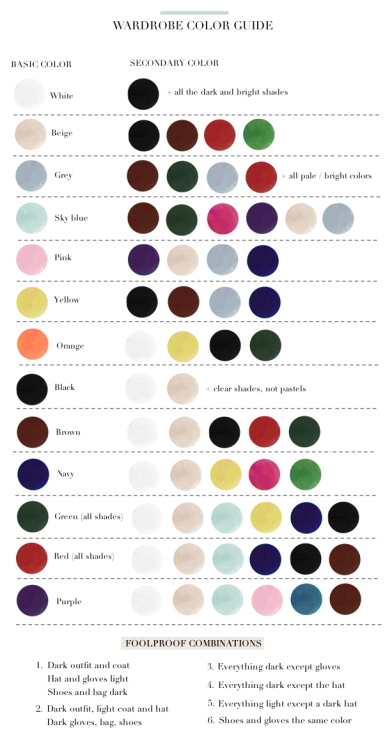 14.
For the best sleeve roll ever, try this simple technique.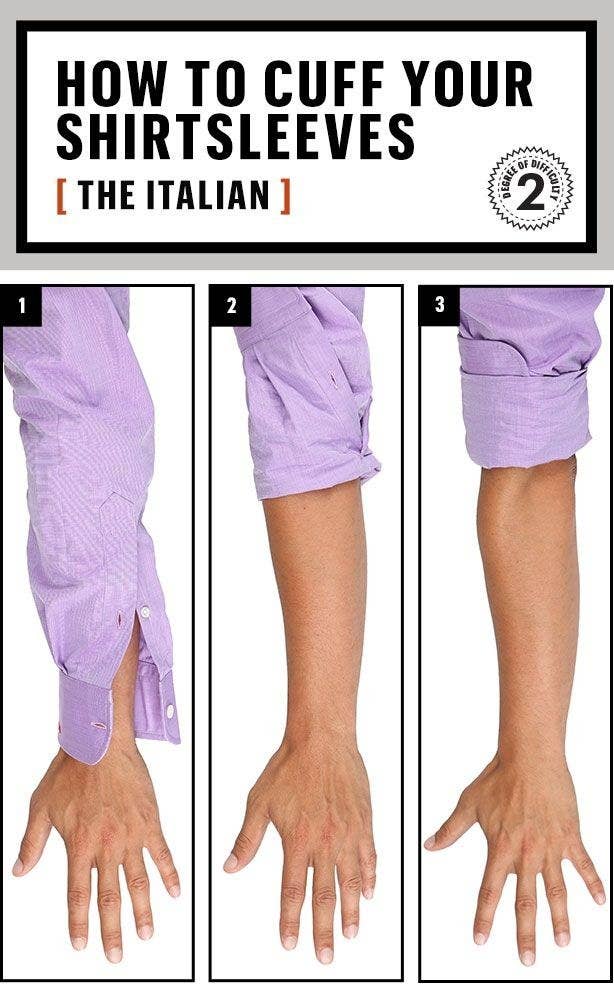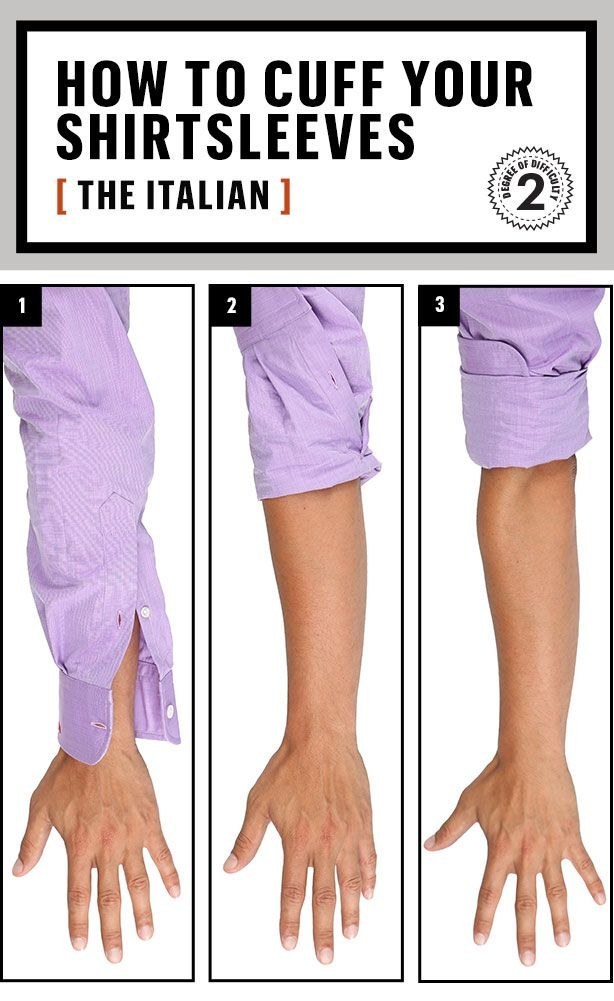 15.
Figuring out the difference between business casual and smart casual and semi-formal can drive you batcrackers. This should help:


16.
Looking for a simple way not to muck it up? May we suggest: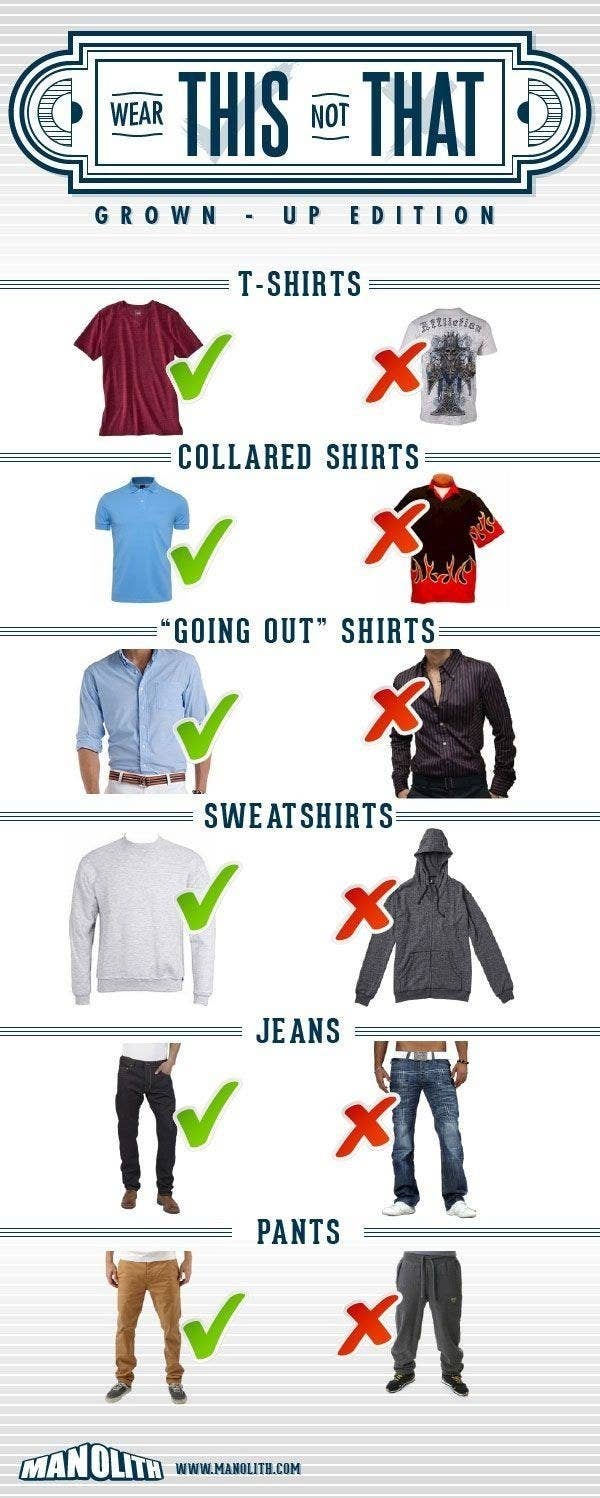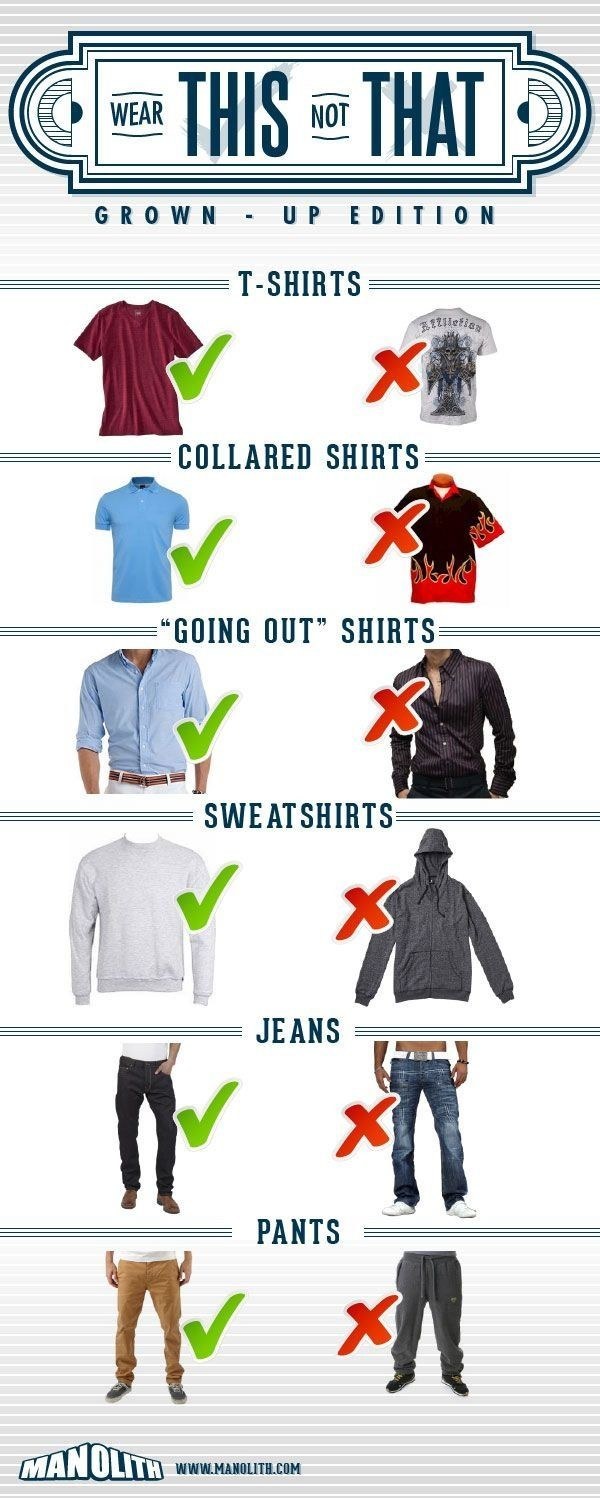 17.
Learn the key to a totally boss pocket square.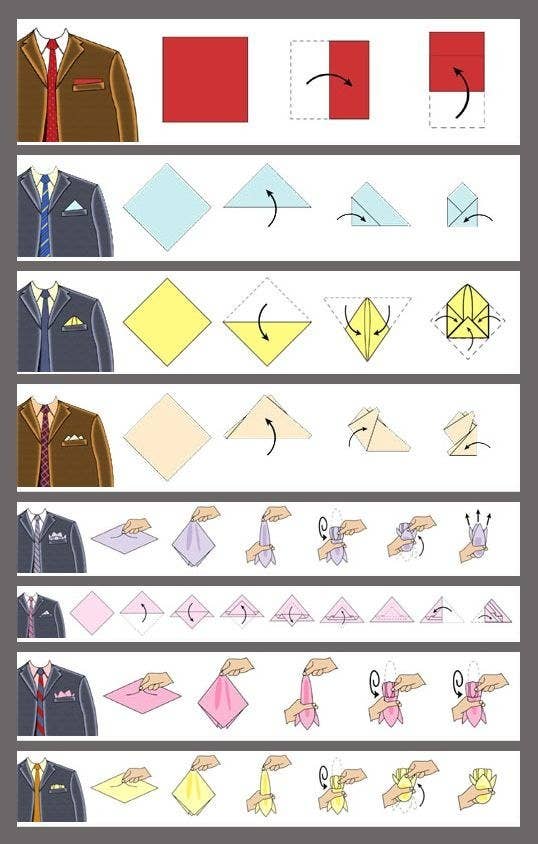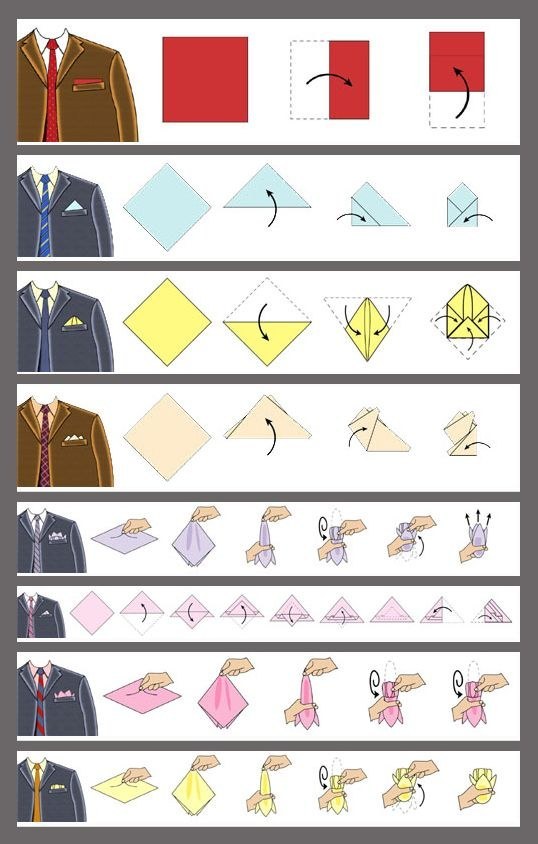 18.
Bow ties? You got this.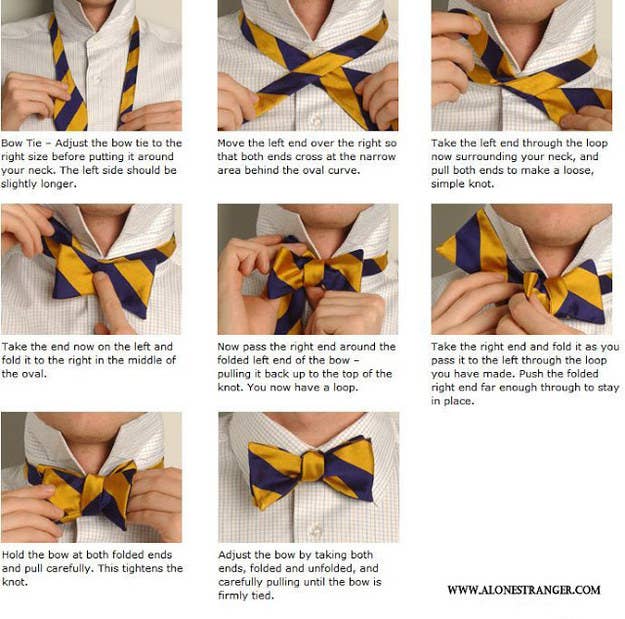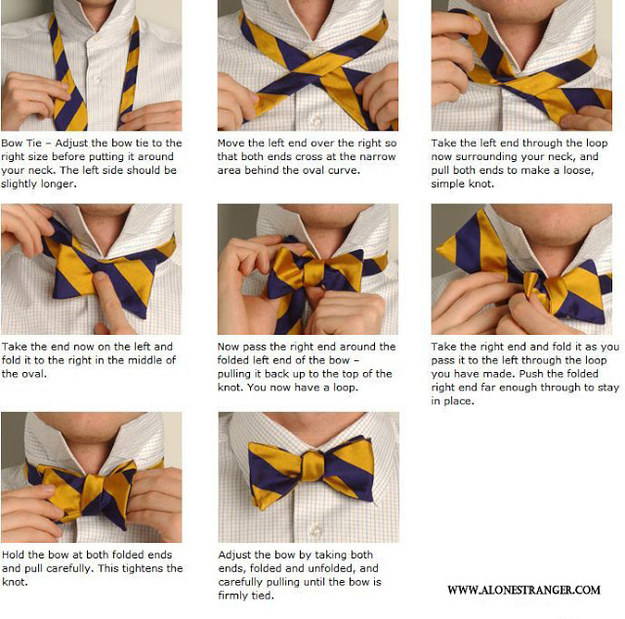 19.
Are you ready for this? Eighteen ways to tie a necktie. EIGHTEEN WAYS! That's a lot of ways!


20.
Learn the secrets of the universe — aka how to put on cufflinks with the greatest of ease.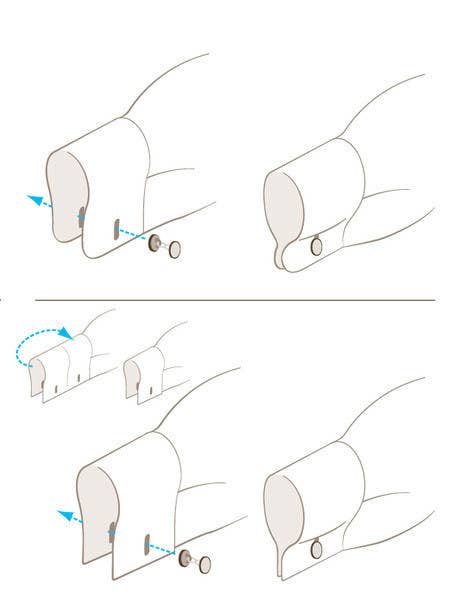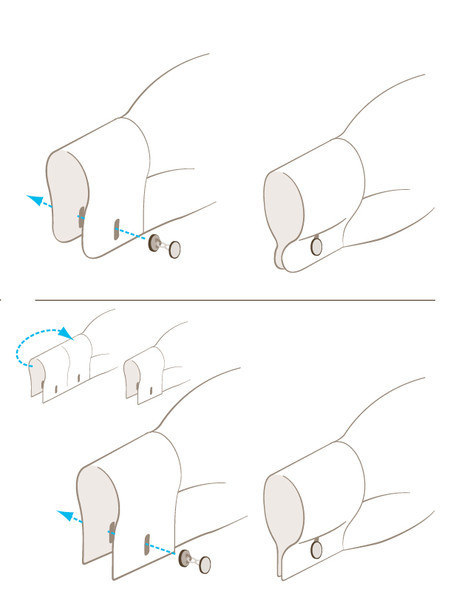 21.
Keep your scarf game on lock.


22.
Not sure what the difference between an Oxford and a loafer is? NOW YOU KNOW!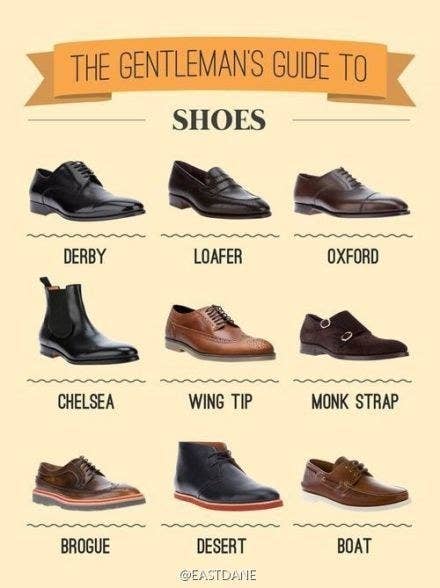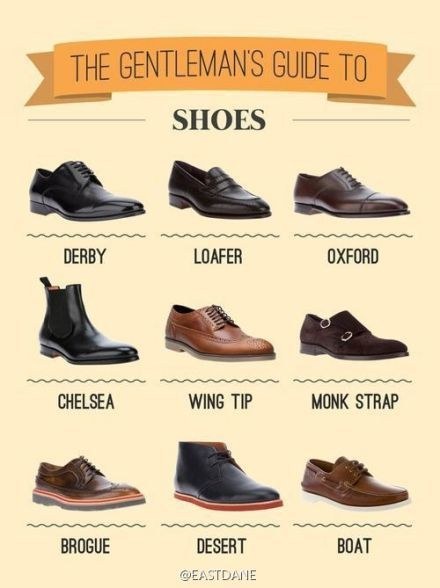 23.
Find the right sunglasses to make you look like a rock star.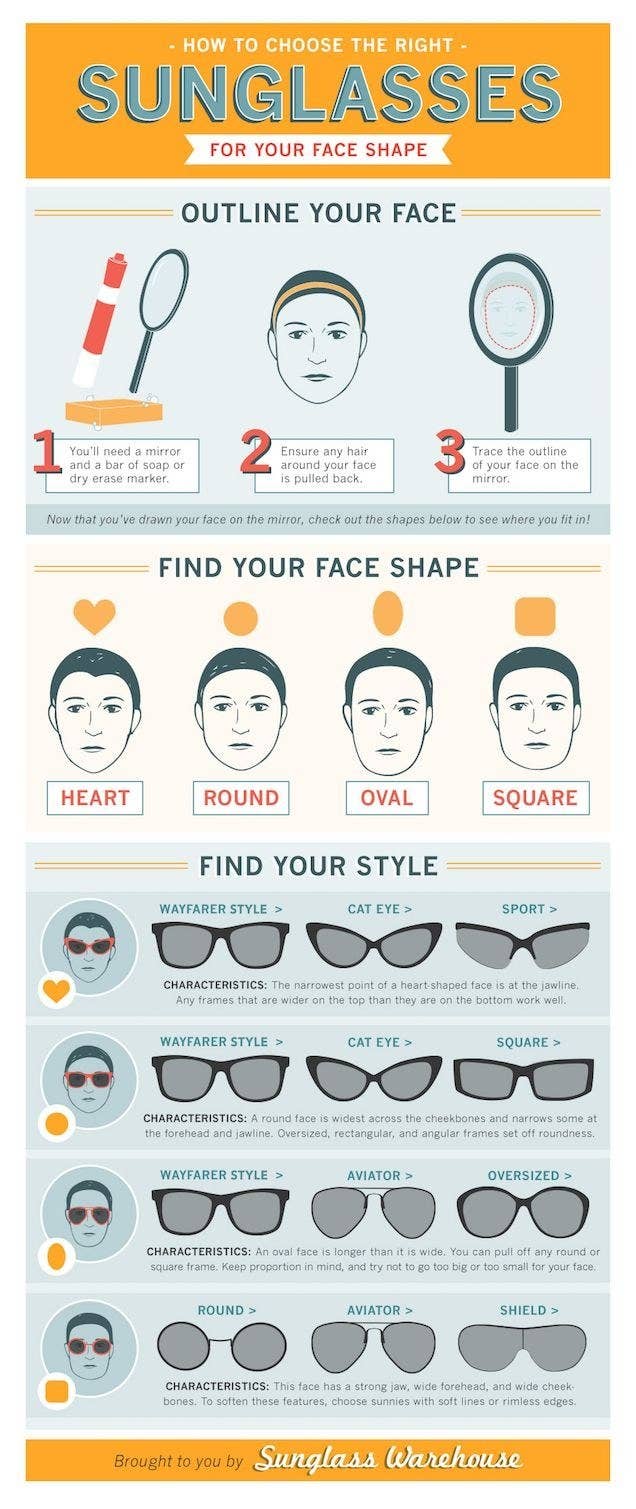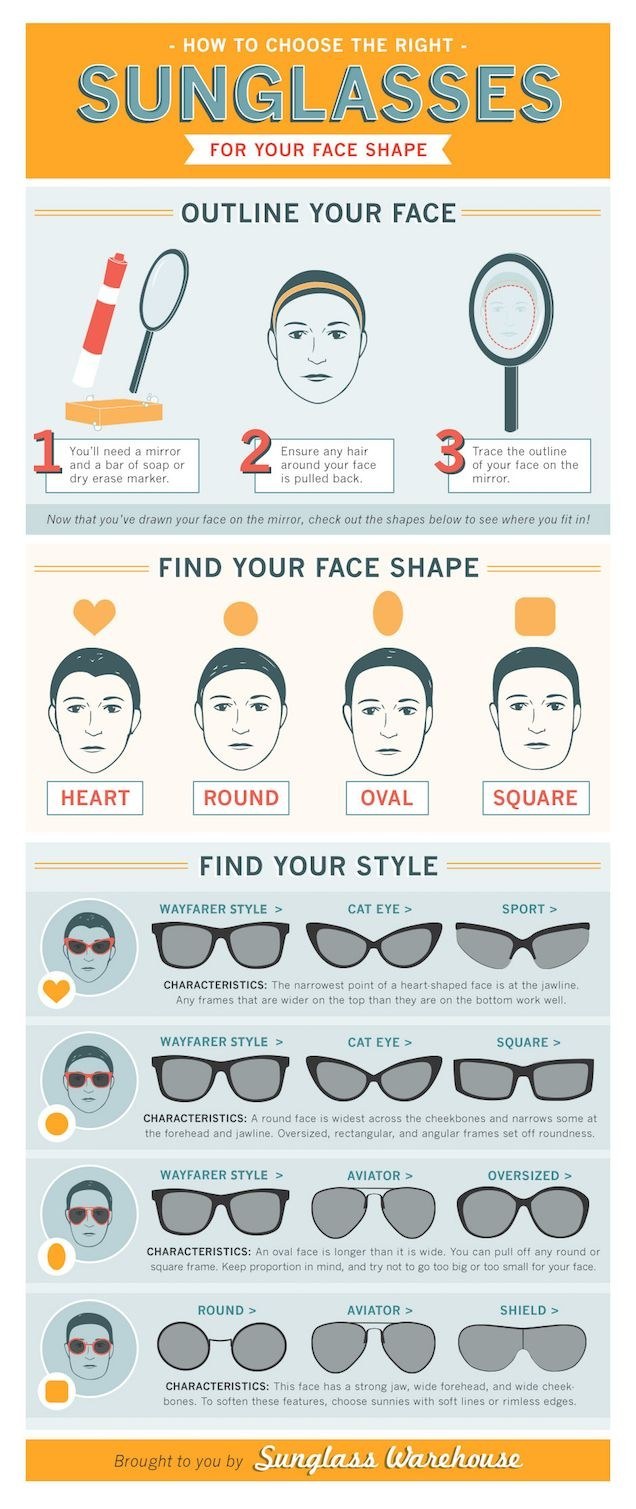 24.
Here's how to properly pack your shirts to maximize space and minimize annoying wrinkles.


25.
And finally, you're gonna wanna wash all your awesome swag (though you should definitely probably dry clean your suits and dress shirts). Here are what all those symbols on your clothes mean:


Streetwear
2017 has been an interesting year, to say the least. To recap: In the last 12 months alone, streetwear has crossed over into the mainstream. Walk down Lafayette Street in SoHo, past the Supreme flagship, on any given Thursday now and you're bound to see longtime streetwear devotees alongside kids who just learned about the culture yesterday. Not to mention, the reselling market has only grown as more see the resale value and opportunity in streetwear.
Of course, there were also a few major releases that dominated the conversation in streetwear and fashion. Louis Vuitton and Supreme dropped their highly-anticipated collaboration, which was first revealed at Louis Vuitton's Fall/Winter 2017 fashion show in Paris. Virgil Abloh and Nike designed arguably one of the most hyped sneakers in recent memory with the "Ten Icons Reconstructed." Demna Gvasalia practically had everyone wearing Balenciaga, especially those Triple S sneakers. Gucci found themselves in hot water in May after the label was accused of knocking off a Dapper Dan design, but was an early favorite for many.
But hype aside, we also saw a few well-thought-out and conscious designs from some of our favorite brands. After the violence in Charlottesville, Noah founder/designer Brendon Babenzien revisited Noah's Human Rights capsule, which he first released this past August, and introduced a sticker and shirts, sales of which benefited the ACLU. Bianca Chandon's Alex Olson designed a T-shirt with the brand's logo in Arabic text and donated a portion of the proceeds to support refugees.
But, after 365 days, who came out on top? Which brands dominated the conversation, impressed with great product, and pushed the envelope? Here are our picks for the best style brands of 2017.
Off-White
(Left to right): Bape x Champion hoodie/ Image via Bape; Off-White x Champion lookbook photo/ Image via Off-White; Supreme x Champion hoodie/ Image via Supreme
It's difficult to evaluate Off-White without considering the label's founder and designer Virgil Abloh. As a public figure Abloh has always been more influential than the clothing he creates; fans knew him as part of Kanye West's constellation of creatives long before he started making those early tees with diagonal stripes. But in 2017, his designs seemed to turn the corner and stand out in their own right in a new and undeniable way. His June men's show at Pitti Uomo in Florence was a spectacle, but presented a cohesive collection with something to say about the plight of refugees. His women's offering, inspired by Princess Diana, felt purposeful. And then, there were those Nikes, Abloh's reinterpretation of 10 classic silhouettes that were genuinely cool enough to match the hype they created. Abloh is in too deep to truly fade behind the scenes of Off-White, but if he keeps up this winning streak, his output won't be outpaced by his clout again any time soon. —Steve Dool
Balenciaga
(Left ro right): ASAP Rocky wearing a red Balenciaga jacket, pants, and waist bag/ Image via Chrsitain Vierig/Getty Images; An on-foot photo of the Balenciaha Triple S sneaker/ Image via Christian Vierig/Getty Images; A look from Balenciaga Menswear Fall/Winter 2017-2018 runway show at Paris Fashion Week 2017
Brands live and die by the buzz they generate. In 2017, there was no better brand at doing just that than Balenciaga. Whether it was for the co-opting of early '00s-inspired styles or footwear as big as a boat, the Demna Gvasalia-led house was on everyone's minds this past year. Now just over two years into Gvasalia's tenure, Balenciaga has found its lane providing luxury fashion that looks decidedly not luxurious. Its 2017 collections brought comically broad shoulders, boxy fits, cropped torsos, oversized outerwear, and a penchant for logos designed to pop up on your Instagram feed every Paris Fashion Week—like the Bernie Sanders campaign mash-up or hoodie bearing the name of parent company Kering. Yet, even with designs that look as though they were ripped from an early '90s mall catalog, Balenciaga seems to have cracked the code to modern fashion and its moments throughout 2017 feel like just the beginning. The brand's new look flies directly in the face of its history of impeccable tailoring and craftsmanship and directly into oncoming traffic with unexpected success. Sure, it can feel like Gvasalia and his band of designers are perpetually pulling one over on the fashion industry, but that might be the point. —Skylar Bergl
Gucci
(Left to right): A model walking the runway during Gucci's Fall/Winter 2017-2018 show at Milan Fashion Week/ Image via Pietro D'aprano/Getty Images; Jared Leto wearing Gucci/ Image via Cindy Ord/Getty Images; Quavo wearing Gucci
What is there to say about Gucci that hasn't already been said as the Italian label continues to exert its dominance in luxury menswear? Well, a lot, actually. Complex's best men's style brand of 2016 has enjoyed another banner year being worn by what seems like every celebrity—from Victor Cruz at a black tie gala to 21 Savage at a grocery store—and smashing sales records in the process. But the brand also showed a willingness to at least try to course correct in the face of controversies it encounters (or creates). They've dumped fur from their collections and popular kangaroo fur loafers, a major win for animal rights activists and a major blow for Gucci-mink-loving Conor McGregor. Gucci also made amends with Harlem legend Dapper Dan after they were accused of knocking off one of his designer knock-offs, spurring on not only a conversation about intellectual property, but also about the ways in which fashion as an industry appropriates, erases, and discredits people of color under the guise of "paying homage." Gucci and Dapper Dan have now entered into a partnership to resurrect Dan's atelier and he's starred in a Gucci campaign. Could you write these pivots off as a brand back-tracking after the masses raise their voices? Definitely. But at least Gucci, amidst their skyrocketing success, takes a moment to listen to cultural critics—which remains, unfortunately, a notable trait in fashion in 2017.
Noah
(Left to right): Noah x N*E*R*D Rugby Top, photo from Noah's Fall 2017 lookbook, and Noah 'Human Rights' stickers
In a year overwhelmed with social and political issues, few brands have consistently taken a firm stance and made meaningful designs like Noah. Founder Brendon Babenzien has never been shy about using his platform for social commentary; last year, he offered refunds to Trump supporters and supported the "Black Lives Matter" movement. This year was no different. He designed hoodies to promote whale conservation, brought attention to climate change with a Smokey the Bear capsule, released T-shirts to aid Hurricane Harvey and Irma relief, and made a "Human Rights" capsule as a response to the events that took place in Charlottesville, with proceeds being donated to the ACLU. Noah has even admitted to using packaging that "sucks" in an effort to decrease its environmental footprint, and uses cotton made in the U.S.A. so they don't contribute to poor working conditions in factories overseas. It's an added bonus that the clothing—whether it's the Fall/Winter 2017 collection or collaborations with Dover Street Market and Mr Porter—actually look good.
Nike
(Left to right): View from Nike x NBA uniform unveiling event/ Image via Josh Lefkowitz/Stringer/Getty Images; Kareem 'Biggs' Burke holding the Roc-A-Fella Nike Air Force 1/ Image via Nike; Off-White x Air Jordan 1
 What didn't Nike do this year? In the last 12 months, the sportswear giant released the insanely popular VaporMax, reintroduced retro models like the Air Max 97—one of Nike's best sneakers of 2017—and became the official outfitter for the NBA. Nike also worked with labels like Kith and Comme des Garçons on highly-anticipated collaborations, as well as celebrated the Air Force 1's 35th anniversary by launching an impressive line of collaborations with Don C, Travis Scott, John Elliott, Biggs (Roc-A-Fella), Errolson Hugh of Acronym, and more—many of which were made available for the first time at ComplexCon. But the company dominated much of the conversation in sneakers largely thanks to Virgil Abloh.
Few product releases and collaborations this year garnered as much attention as Abloh's collection with Nike and his brand Off-White. Seriously, Abloh's sneakers fetched the highest prices for Q3 of 2017 on the reselling market. But more impressive, the partnership raised the bar as to what sneaker/sportswear companies can do with fashion brands. This past September, Abloh and Nike curated an experience called "Off Campus," which included installations, workshops, and more—a highlight from New York Fashion Week.
Fear of God
(Left to right): Offset performing in Fear of God track pants and coaches jacket/ Image via Nicholas Hunt/Getty Images; Fear of God Black Satin Manuel Coaches Jacket/ Image via Fear of God; Photo from Fear of God's 'Racing Collection' lookbook
Since launching Fear of God in 2013, Jerry Lorenzo has cultivated a solid following for his Los Angeles-based brand. But this year was, without a doubt, his year. This past March, he released his highly-anticipated fifth collection—a 96-piece line inspired by his childhood that included a flannel with a denim collar, punkish plaid pants, track pants, and more. The collection was a success and helped make Fear of God ubiquitous with people who are, well, ubiquitous. Pharrell rocked a pair of vintage denim shorts from the collection during N*E*R*D's reunion performance at ComplexCon. Offset has practically become an unofficial ambassador for the brand. Jay-Z and Kendrick Lamar have both worn custom Fear of God silk jackets with their respective names on the back. Even Ellen DeGeneres and Janet Jackson have become fans.
Lorenzo has continued to dominate streetwear/luxury streetwear/menswear with collaborations with New Era and Vans, and pop-ups at popular retail stores like Patron of the New. Still, all those achievements aside, what's most impressive about Fear of God is how authentic Lorenzo's designs are. Every single item in his collections are deeply rooted in who he is and his diverse interests. How many other brands can you say do the same?
Supreme
(Left and center): Look from Supreme's Spring/Summer 2017 lookbook and sweater from Supreme x Scarface collaboration/ Images via Supreme; (right) Odell Beckham Jr. wearing Supreme x Louis Vuitton/ Image via Kevin Mazur/KCASports2017
There's no doubt that 2017 was the year streetwear went mainstream, and Supreme played a pivotal, if not the largest, role in that shift. So, when James Jebbia sold 50% of the brand's stake to The Carlyle Group, a prestigious private equity firm, for a reported $500 million many wondered if Supreme was "selling out." But Supreme's formulaic approach to streetwear—defiant rebellion mixed with a little hip-hop superiority, with a splash of interpretive art and a whole dollop of climatic collaborations—is indefatigable. The brand continued to showcase its cultural range by featuring the likes of Sade, Nas, and the late-great Michael Jackson while also introducing hypebeasts to artists Andres Serrano, Cindy Sherman, and M.C. Escher.
Throughout the year, Supreme also released several much talked-about collaborations with Nike, The North Face, Timberland, Comme des Garçons SHIRT, and Levi's, among others. But their most anticipated drop was their project with Louis Vuitton. The partnership helped introduce both brands to a new audience; suddenly, 60-year-old women dressed in head-to-toe Gucci were salivating over Supreme (real story; one of our editors here witnessed it). But it also proved that Supreme's unwavering approach, year after year, has brought them to prominence as a tour de force in an industry often delegated to fashion houses. Perhaps in 2018 Supreme will have its first runway show?
Raf Simons
(Left and right): Looks from Raf Simons' Spring 2018 runway show at New York Fashion Week: Men's 2017/ Images via Raf Simons; (center) Playboi Carti wearing Raf Simons 'I Love NY' sweater at BET Hip Hop Awards 2017/ Image via Bennett Raglin/Stringer
Even after completing a revamp of the Calvin Klein brand, Raf Simons still performed beyond expectations for his eponymous brand in 2017. Simons continued to blur the lines between high-end streetwear and luxury fashion, and made some of the most coveted pieces this year. Seriously: Who have you not seen wearing the "I heart NY" knit sweater? He also dominated New York Fashion Week: Men's, both in the collections he presented and the runway shows themselves. His Spring 2018 fashion show, inspired by Blade Runner and Asian and Western cultures colliding, was set in a market in Chinatown. At a time when some are questioning the need for a separate men's week in New York, and as more designers make the move to Paris, Simons certainly brought the excitement back, even if just for a moment.
Now, don't get it twisted: Simons is a fashion legend. His designs, particularly vintage and archival pieces, are valued in a way not many other designers' work are. He's got devotees—editors, regular consumers, celebrities, etc. In fact, Simons joined the ranks of Gucci, Versace, and Prada and was forever immortalized in "RAF," a song by ASAP Rocky (a Simons fanatic), Quavo, and Playboi Carti. Even the music video for the track was inspired by a Raf Simons visual lookbook from the designer's debut Fall/Winter 1995-1996 collection. It's no wonder that Simons has been considered one of the year's most influential fashion figures.
Adidas
(Left to right): Luka Sabbat modeling a look from the Yeezy Season 5 Fashion Show/ Image via Yeezy; N*E*R*D x Adidas Training Gear Hoodie/ Image via Adidas; Image from Adidas Originals by Alexander Wang Season 2 Drop 3 lookbook
The kings of collaboration may have turned 2017 into their biggest one yet. While the year was defined by a slew of sneaker releases that helped push Adidas over Jordan Brand to become the second largest sneaker brand in America, the Three Stripes also continued to push its apparel to another level. The brand's ongoing partnerships with Palace, Reigning Champ, White Mountaineering, Alexander Wang, and Kanye West headlined a year in which track pants became a huge trend and athleisure continued its saturation into the public's awareness. Meanwhile, smaller collections with the likes of Mastermind Japan and N.E.R.D. after they reunited at this year's ComplexCon gave OGs something to talk about as well. Throughout all of that, Adidas' ZNE line of basics became a reliable standby and the Parley ocean plastic initiative brought the issue of sustainability within the sneaker industry to the forefront of conversation. These projects alone are worth paying attention to, and that's before you get into the cavalcade of coveted sneakers that Adidas dropped this year—from another killer Spezial range to the unstoppable force that is the ever-improving Ultra Boost. There wasn't a single moment in 2017 where Adidas did not knock things out of the park.
Champion
(Left to right): Bape x Champion hoodie/ Image via Bape; Off-White x Champion lookbook photo/ Image via Off-White; Supreme x Champion hoodie
 Who would've guessed that Champion, a nearly 100-year old Hanes-owned sportswear brand synonymous with basic, affordable sweats, would have one of the biggest resurgences in recent memory? Champion saw huge success in the '90s with the hip-hop community. But now, the brand has become a go-to among the streetwear and fashion elite.
Champion kicked things off late last year with a luxury collaboration with Vetements, and pushed further this year with collabs with a plethora of streetwear stalwarts like Supreme, Stussy, Bape, Off-White, and BEAMS. Even top-tier retailers, like SSENSE and Union Los Angeles, recognized the impact the brand's more contemporary Reverse Weave efforts have on the industry.
Brands are revived and relaunched everyday, but many are short-lived comebacks. But by staying genuine to its brand ethos, Champion's reach has stretched from Japan to Europe to the U.S.
How To Build A Solid Streetwear Wardrobe
Bring the heat with our guide on the classics to cop
Image: Obey
Streetwear's a term more jumped on than a pair of Air Jordans. Is it varsity jackets and Japanese jeans? Or longline tees and jersey joggers? Or both? 
If there's one common misconception about streetwear, it's that it's easy. Granted, when confronted with some of high-end menswear's more complex designs, you'd be forgiven for thinking that street-level dressing is a simple case of jeans, T-shirt, hoodie, trainers and done.
But then consider the number of high fashion designers taking their cue from streetwear culture right now – from Virgil Abloh's OFF-WHITE, to Riccardo Tisci's output at Givenchy, to every luxury player pushing their own take on iconic sneaker designs for the past few seasons. The truth is that putting together a strong outfit – streetwear or no – calls for smart judgement, as well as a solid selection of staples that you can build upon as your wardrobe grows.
But before we dig into the specifics of what those staples are, here are a few signposts to get you started on the streetwear path:
On Fabrics: Above any other material, cotton is king. You're looking for classic cotton textiles – jersey, Oxford cloth, chambray, twill and one more essential that we'll cover in more depth shortly. Some of the more 'decorative' fabrics like herringbone and seersucker are nice, but they technically skew more #menswear than straight-up streetwear if you ask me.
On Shape: See me, I'm a classicist. I'm enamoured of that early 1990s Ralph Lauren-led interpretation of streetwear: slightly loose-fitting chinos, baggy shirts, beanies, you know the look. But if you want something more contemporary, then longline cuts and dropped crotches should be your go-tos.
On Consistency: As you'll have gleaned from the points above, definitions of 'streetwear' are several and, despite my own preferences, all of them are perfectly valid. But once you've made your choice, stick with it. Mixing styles can be a winning combo, but trust me when I say your double-layered street Goth shorts won't work with those Wallabees. Just here to help.
Now we've covered off the basics, let's survey that list, shall we?
'A Good Pair of Dark Blues'
Frank Ocean knows what's up. If your streetwear wardrobe doesn't start with a decent pair of jeans, then someone's led you astray. This is the very guts of any solid streetwear line-up, and the piece you'll likely bolt everything else onto. While selvedge isn't vital, the tell-tale strip running up the leg has become commonplace in the streetwear landscape, and is generally a mark of superior quality and durability when it comes to denim.
Then it's a question of wash. And in most circles, it isn't even a question: raw denim all the way. Menswear mythology has turned the gradual fading and distressing of denim into a personal journey of self-discovery which you may or may not entirely endorse (cough), but I'll at least admit that wearing my first pair almost daily and refusing to wash them (until a dog came up to me on the bus and started licking the stale sweat, food stains and god knows what else off my leg – true story, feel my shame) was something of an experience.
For cost-per-wear, my money's on Edwin ED-55s or A.P.C. New Standards – if you're plumping for the former, consider buying 2 inches under your normal waist size to allow for stretch.
Selected Homme Jeans 2014
Key Pieces
Army Outerwear
While menswear pieces have been lifted from other areas of life, few have endured in the same way as those pulled from military ranks. Whether it's the cultural ties of the clothes, the classically masculine cut and fit of the garments or how versatile they are when it comes to creating 'fits, there's something about a good military jacket that just puts the cherry on any ensemble.
There's a platoon's worth of choice, too: the MA-1 flight jacket is a sturdy, winter-ready piece you've, at this stage, got no excuse to be without; the M-51, a lesser-known predecessor of the iconic M-65, offers a clean silhouette that's easily layered; and, finally, the element-deflecting M-65, also known as the fishtail parka, is ideal for when you watch to switch out your overcoat for something more rugged.
Carhartt always comes correct in this field, otherwise scout out Alpha Industries – they started out as contractors to the US military, and it doesn't really get more legit than that.
Harmony AW14
Key Pieces
Sweats Life
It's not every day a jeans and chinos thing. Some days, take it easy. Some days, enjoy some soft cotton fleece against your legs. Once considered the very antithesis of style, the humble sweatpant is now practically a status symbol in certain fashion circles, with designers like Thom Browne, Gosha Rubchinskiy and Alexander Wang all offering luxe versions that riff on the gym leisurewear staple.
Thing is, sweatpants have only just found acceptance in fashion beyond sportswear at all, so there's always going to be part of me that gets really purist about which brands to buy in the sweats game: and that's three-stripes, swoosh, conversation over.
In streetwear terms, if you're going to broaden your horizons, then keep it in the ballpark: Billionaire Boys Club always delivers a solid range of jersey sweats in its roster if you're hunting for something slightly more premium. Otherwise, stay close to the roots and trust your cash with the sportswear authorities. And please, heather grey or black all day.
H&M Divided Fall 2015
Key Pieces
Printed Tees
When urban subcultures happened on screen-printing in the late 1980s and early 1990s, it opened up a world of possibilities. Name any of the streetwear heavyweights – Stussy, Fuct, SSUR, Obey, even Supreme – none of these brands would have made it out of the woods without their cornerstone printed tees.
If you're finding your feet in the graphic game, then stick to the certified classics. For me, that's the Fuct logo tee, Palace's Tri-Ferg and the timeless Stussy tee. Or, if it's niche vibes you're feeling: check out the punk and graffiti references from Stray Rats, Well Fed and Burma MFG. You can thank me later.
Stussy at ASOS 2016
Key Pieces
In The Hood
The hoodie is the one garment that has captured the essence of street.
If you want to go back to the roots, then opt for a Champion Reverse Weave and size up. Short body, big hood, tight cuffs, it's the original fit – there's a reason Supreme keeps collaborating with them, guys.
Otherwise you might want to go a bit more branded. All the labels name-checked above are a good bet, but if you like something a bit more exclusive you should check out FPAR – Japanese-made sweats, big bold graphics, beautiful quality. If you want to go really niche, see if someone can source you a Pigalle hoodie. Good luck.
Filling Pieces AW15
Key Pieces
Kicks Are Crucial
Come on man, like I was going to leave this one out? We should all be pretty familiar with the classics already – Air Max 1, Jordans, Sk8-Hi and the like – so we won't go over old ground.
In my opinion the sneaker trend is moving from basketball and tennis towards running styles right now, and leading the pack is adidas Originals – the ZX Flux has been steadily killing it, and has been breaking hearts with instant sell-outs around the world. We all know how sneaker culture works when the hype takes hold, so I won't get too specific here to avoid disappointment.
Start by picking up a solid pair of everyday court trainers – adidas Samba/Gazelle/Stan Smith or Puma Suede – follow that up with a decent running model – any of the adidas Boosts will change your life for the better (just ask your mate who beat you to getting a pair) – and round it out with something bold and brash. I'm talking Nike TNs. School bully trainers.
Put those three together, you've got the calm, the contemporary and the outright crass. Your sneaker rotation will grow with time, but this is a pretty solid base to build on.
Stighlorgan 2015
Key Pieces
Final Word
Now you have the inside track on starting out in the culturally enriching and financially crippling world of streetwear. But if I could give you one last piece of advice, it's this: learn the difference between passing hype and timeless product.
It takes a while, and you might lose a few bills along the way, but trust me when I say I've got years-old pieces in my wardrobe that I can still rock every day, and crazy purchases that barely make it out of the house. I know which ones are more valuable in the long run.
What are your must-cop streetwear pieces? Any iconic styles we left out above?
Let us know.